2023 Capitol Peak 50miler/25K
When: Sat, April 22, 2023
Start times:
50 Miler: 6:00am
25K : 9:00am
Where: Fall Creek Day use area, Capitol Forest
Parking:
Discover Pass Required for parking!
Entry: 50 miler – $50 / 25K – $30 (Price Increase April 15th – $65 & $35!)
Online Registration: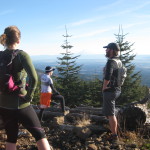 16 Years & Counting
Again this year there will be a 50 mile ultra and a 25 km (~16 mile) trail race. 2023 will mark the 18th year of the Capitol Peak races in Capitol Forest.
DNR WAIVERS

Every runner will need to print, sign, and bring a DNR waiver with them to check-in on race-day. Click to Download Waiver (we will also email entrants a link to the waiver) Every runner who is also driving and parking a vehicle anywhere in Capitol Forest will also need a DISCOVER PASS visible on their dashboard. If not visible, the enforcement officer will give you a ticket! Get your Discover pass via this link
START/FINISH FOR 2023
Both the 50-mile and 25K start from Falls Creek trailhead.
Start time for the 50-mile is 6:00am, 25K is 9:00am.
Cut-offs for the 50miler will be 1:30pm at mile 27 and 5:30pm at mile 42.
**Dogs are welcome at our events at the Start/Finish and on the course provided they are on leash.**
Drop Bags (50 miler only)
You may have drop bags at Fall Creek, Capitol Peak and Wedekind. Please label!
Post Race Food
Included in your registration is post race wood fired Pizza from Pizza Rocks for you and your crew! (You've seen them at RainShadow events)
Camping
PLEASE NOTE: There is camping at the Falls Creek Campground, near the start. Friday night only. There is no registration for camping, but you will need a Discover Pass to camp. 
COURSE DESCRIPTION
"Capitol Forest is a "working forest", so course revisions are possible to accommodate the "work". For updates please check here.
COURSE DESCRIPTION:
Both the 50-mile and 25K start and finish from Falls Creek Trailhead. The race will 
feature some of the most rugged and serene single track trails and grinding sections of gravel road, and, depending on toss-of-the-coin for weather in April, spectacular views.
The 50-mile will include Capitol Peak to gaze from, and an  out and back on the Porter Trail. The 50 mile will feature 7 aid stations, the first aid station will be water only with just a little food, so be prepared!
The 25 k will have 2 aid stations. Both the 50 mile and 25K, will complete the course on a serene, descent to the finish at Falls Creek Trailhead.
COURSE MAPS:
Capitol Peak – 50mi
**Course may change due to logging!**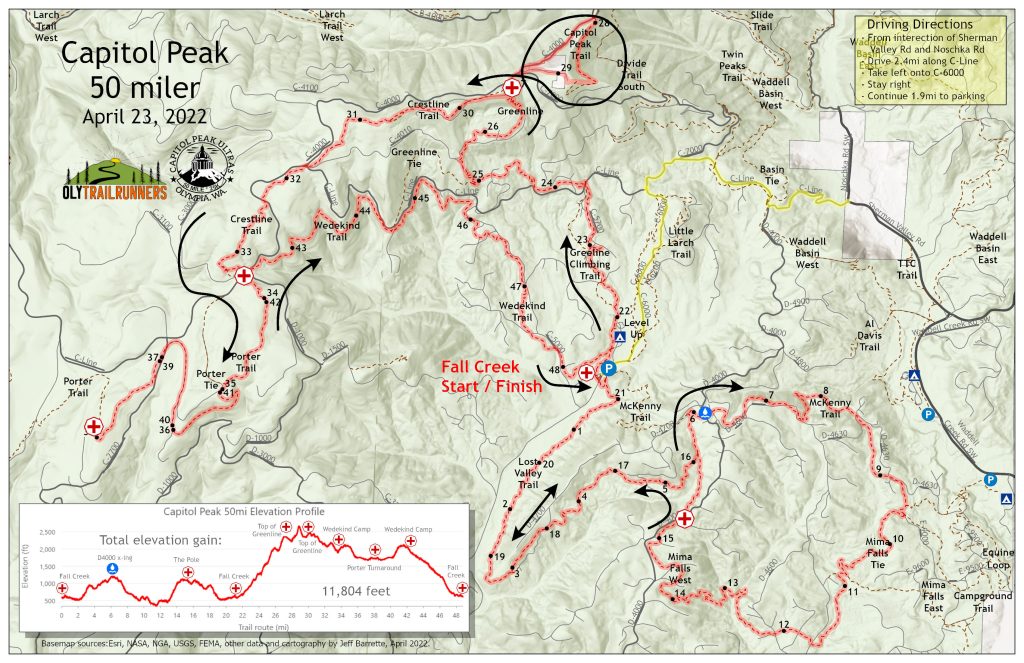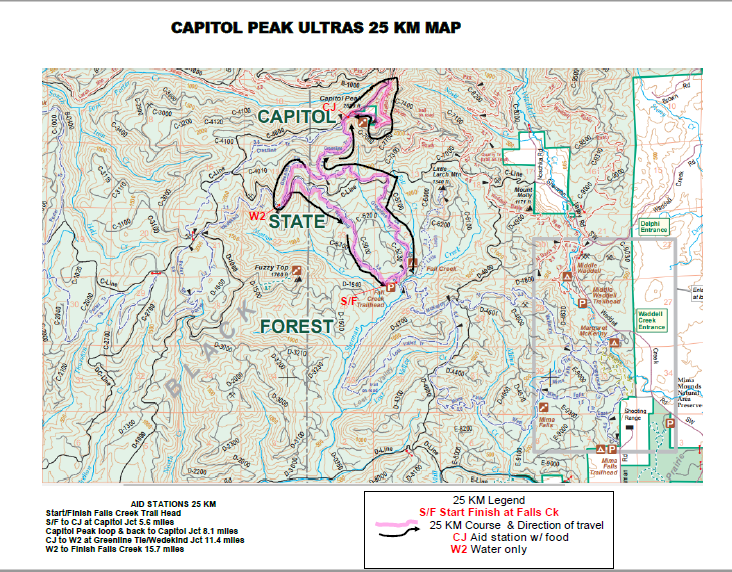 DIRECTIONS
From Delphi road, turn West on Waddle Creek Rd, turn right on Sherman Valley rd, follow up into the forest 3.6 miles, turn left at the Fall Creek sign, drive about 2 miles,  past the Fall Creek Campground turnoff to the Fall Creek Day Use Area. You will may have to park on the shoulder of the road or in the campground. Hang your Discover Pass or get a ticket!
25K Training run:
We will have a Free training run for 25K racers on April 8th. Starting at 9am at the Fall Creek Day Use Area. Come try out the course with experienced trail runners. The run will be 8 – 9 miles. Registrants will be emailed the details.
Age Group Awards
Age group winners for the 50Miler and 25K will receive a custom coffee mug made by our very own Hannah McLean!
Save
Save
Save
Save
Save
Save
Save
Save
Save
Save
Save
Save
Save
Save
Save
Save
Save