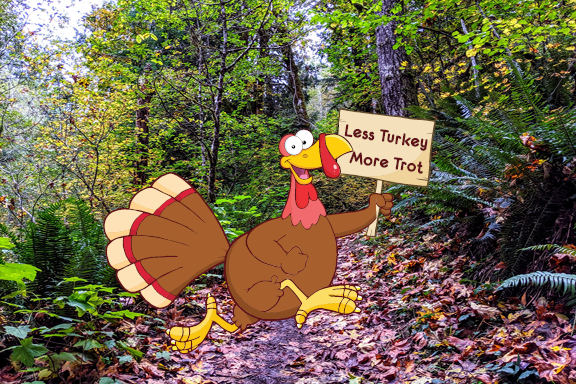 Less Turkey, More Trot – Virtual Race
When:
November 18 -26, 2023
How it works:
Choose your distance (12 km, 24 km, 33.4 km, or all 3). Complete your chosen course between November 19 and November 27. All routes start and end from the McKenny Trailhead at Margaret McKenny Campground. No proof of run is required, however, we do encourage you to send in a photo of your run and photos for a chance to win a prize! You'll need to record your "total elapsed time" on UltraSignUp when you complete your run.
Awards will be given to:
• The best race photos (Be creative)
• Youngest runners
• Hidden Strava segment winner
• Random raffles
• And more!
Special Raffle:
We're raffling a basket with goodies with all the money going to the food bank! We're putting together the basket now and we promise it will be worth it. Purchase $10 tickets when you check out or donate directly to the food bank and send us a photo of the receipt.
Entry: $20
All proceeds will go to the Olytrailrunners and Thurston County Food Bank.
Registration Link:
Register before November 27th at UltraSignup
DISCOVER PASS:
Be sure to have your pass visible in your vehicle. More information about purchasing Discover Passes at https://www.discoverpass.wa.gov.
Timing:
You will be emailed a link to record your time.
No requirement for proof. We will use the honor system. Do take Garmin or Strava screen shots, or photos to share! If you are participating in another virtual race on the same date, you can also submit your results for this event.
Course Map:
There are three distances: 7.4 miles (12 km), 14.9 miles (24 km), 22 miles (33.4 km) and all start from the McKenny Trailhead in Capitol Forest. This is a different trailhead with slightly longer distances than last year. ** The course will be marked but if you are unfamiliar with the area, be sure to take the map with you. **
We recommend downloading the free Avenza app from Friend's of Capitol Forest's website and adding our georeferenced course map. See our course map below. Email l[email protected] if you are unable to access the map.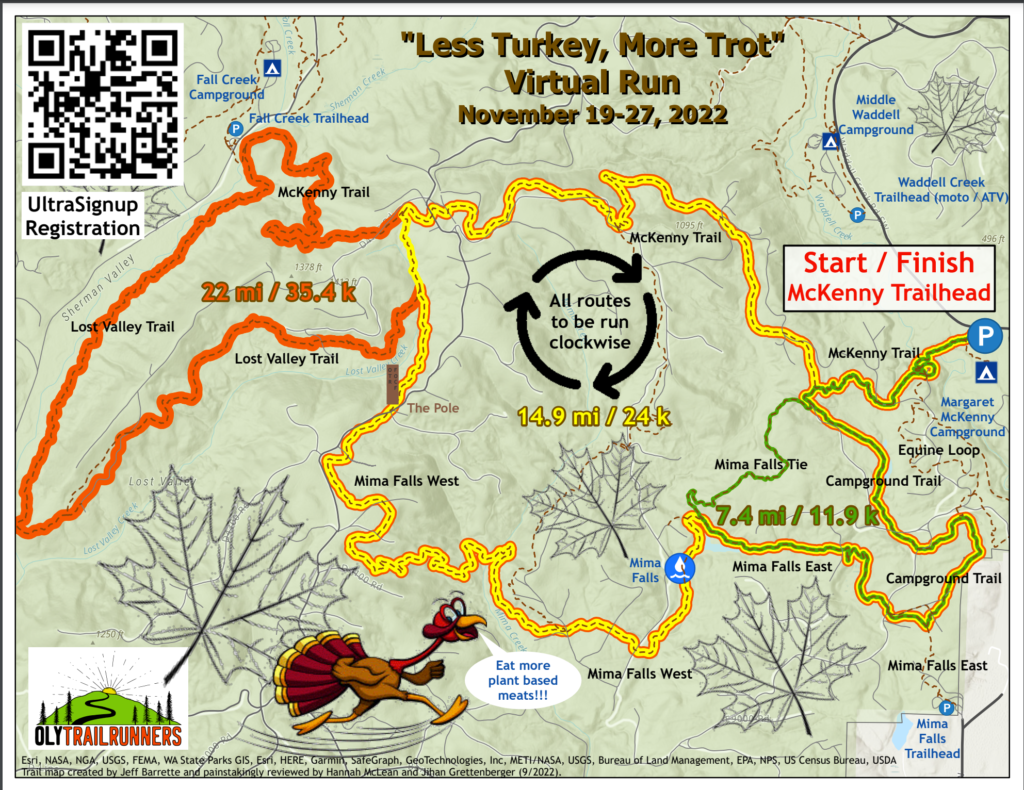 Have fun and stay safe!