Rainbow Falls State Park / Willapa Hills Trail
May 7th, 2022
50K start: 8:00 AM
25K start: 9:00 AM
Introduction
The inaugural Willapa Trail Festival will start and finish at Rainbow Falls State Park and run out and back along the Willapa Hills Trail. The 56 mile state parks trail trail follows an old rail grade, traversing the rolling hills and rivers of scenic southwest Washington from Chehalis to Raymond and ending in South Bend along the Willapa River and Willapa Bay. Running along this beautiful trail in springtime makes for an excellent running event experience for our modest entry fees. Most of the course is flat or slightly rolling double track. Overnight camping available at Rainbow Falls also makes this event a great opportunity to take a weekend away and experience a beautiful, less-travelled area of Washington. All profits from this race will be used to continue to improve and maintain the Willapa Hills Trail.
Race Entry
Both the 25K and 50K will be a flat fee of $35. Races will be capped at 70 runners per event.
Course
The course will be mostly hard packed gravel surface, however some sections of the 50K course are undeveloped. The course will start and finish at Rainbow Falls State Park and take runners onto the Willapa Hills Trail and head west towards the small town of Pe Ell, where they will find the first aid station, located at the Pe Ell trailhead, just off Highway 6 in downtown. The 25K turnaround point is located approximately .6 miles beyond the aid station at Grabski Rd/Muller Rd crossing.
The 50K runners will continue to the next aid station, located at the 50K turnaround point. On the return trip the 50K runners will pass the Pe Ell aid station a second time. The aid stations will be stocked with water, electrolytes, and the usual assortment of candy, cookies, chips, fruit, and gels offered at most ultras.
There will be no cutoffs for 25K or 50K runners, however the 50K turnaround aid station will close at 12:30PM, and the Pe Ell aid station will close at 3:00PM. Runners who anticipate needing more time should plan accordingly.
Parking
Parking is extremely limited in Rainbow Falls State Park. If you are planning on running this race with a friend or a group, please make plans to carpool. There is day use area parking, and some parking along Leudinghaus Rd adjacent to the park, but it is limited. We cannot accommodate more than one vehicle per runner.
One of the best ways to guarantee a parking spot is to purchase an overnight camping spot in the Rainbow Falls campground for Friday and/or Saturday night. Reservations for camping spots can be made at www.parks.wa.gov
Race Day
The 50K will start at 8:00 AM. The 25K will start at 9:00 AM. Our permit does not allow an early start for any runners. We will have day of race registration starting at 7:00 AM.
Please note that a Washington State Discover Pass is required for all vehicles parked inside the state park. The Discover Pass can be purchased in advance for a $30 annual fee or can be purchased at the park for a $10 daily fee. The park ranger will be checking for a Discover Pass displayed in your front window otherwise you will receive a $99 ticket! For a list of places where you can buy a Discover Pass, visit: http://discoverpass.wa.gov/
Please be courteous of the trails (i.e., no littering) and help us to maintain our good standing with the state parks, other user groups, and local residents so we can continue to offer this race in the future.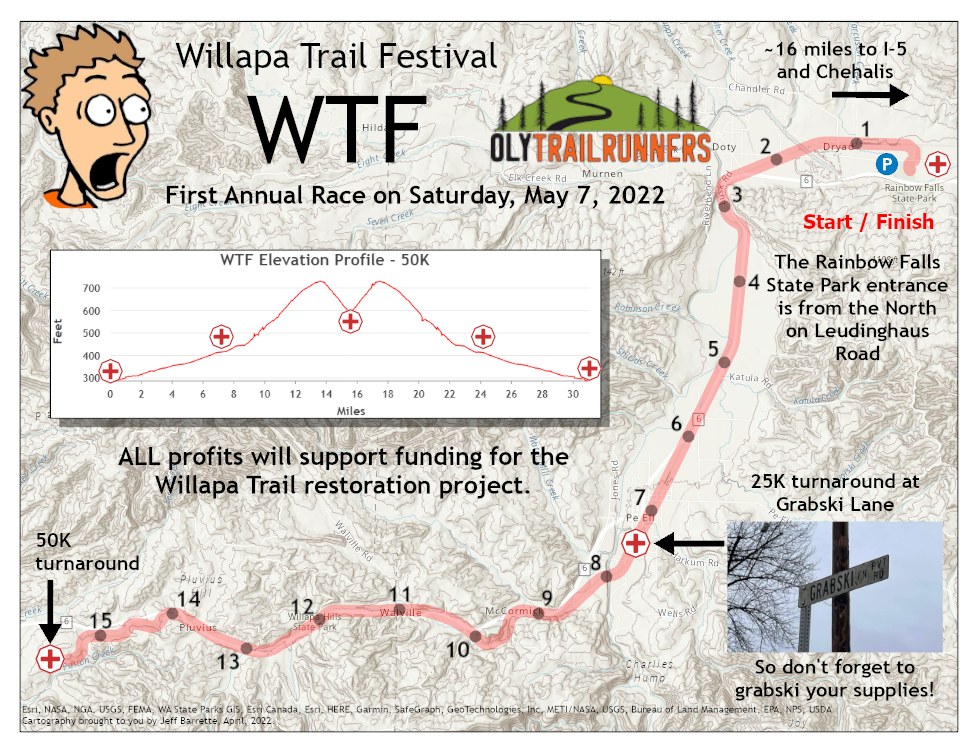 Download your map: HERE